Our DNA
Founded in 2004 on two main ideas: innovation as a decisive differentiation factor for companies and the capacity to mobilise the best talents as a condition of success. Adaltas helps its clients navigate the ever-evolving world of Open Source, enabling them to develop the best solutions - whether writing an application or shaping a longer-term strategic software platform. Adaltas defines itself as a Big Data pure player on Hadoop and NoSQL technologies and the DevOps and SRE methodologies.
Our teams bring expertise in data analysis, data processing, governance, development and operations. The consultants adhere to the DevOps culture and they are trained with the SRE methodology. They support their customers in building resilient infrastructures and applications, aware of the rapid innovations made by the Open Source community and the need for system stability.
Our Big Data journey began in 2009 with the support of EDF (European largest electrical utility company) and the Linky PoC whose purpose was the national deployment of electrical smart meters. In 2012, we undertook the installation of a Big Data platform shared by the whole EDF group with components from the Hadoop ecosystem. The number of components has expanded over time as well as the service and the use cases that landed on the secured and multi-tenant platform.
The experience led to the acquisition of a strong expertise in cluster deployments and operations. Topics addressed included process automation, collecting and monitoring all system components, securing access, encrypting streams, optimizing performance, and integrating with the practices in place inside the organization. In addition, we intervene in application development such as the creation of data ingestion pipelines, the deployment of machine learning algorithms and the development of tools and customized applications.
All of our talents are experienced experts who ramp up quickly and who actively contribute as core team members by auditing what is in place, qualifying new architectes, team training and engaging continuously the transfer of knowledge.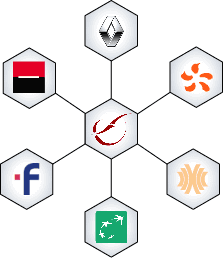 Today, Adaltas is present at Orange, the Ministry of the Interior, EDF DSIT, EDF R&D, Renault, Safran Aircraft Engines, Faurecia, Banque de France, BNP or Société Générale. Our expertise is reflected in our partnership with Hortonworks and today Cloudera, with whom we have been working together since 2014. Our consultants also work with more general companies such as GFI, Arismore (now Accenture) and LGM. We are also at the initiative of the Big Data program of the ECE School of Engineering since 2013, which we pursue every year. Since 2016, we teach at the Data ScienceTech Institute (DSTI). Finally, we give lectures and courses at the Paris-Sorbonne University (Paris IV) with whom we are setting up several certifying courses around Big Data, Cloud technologies and Data Science.