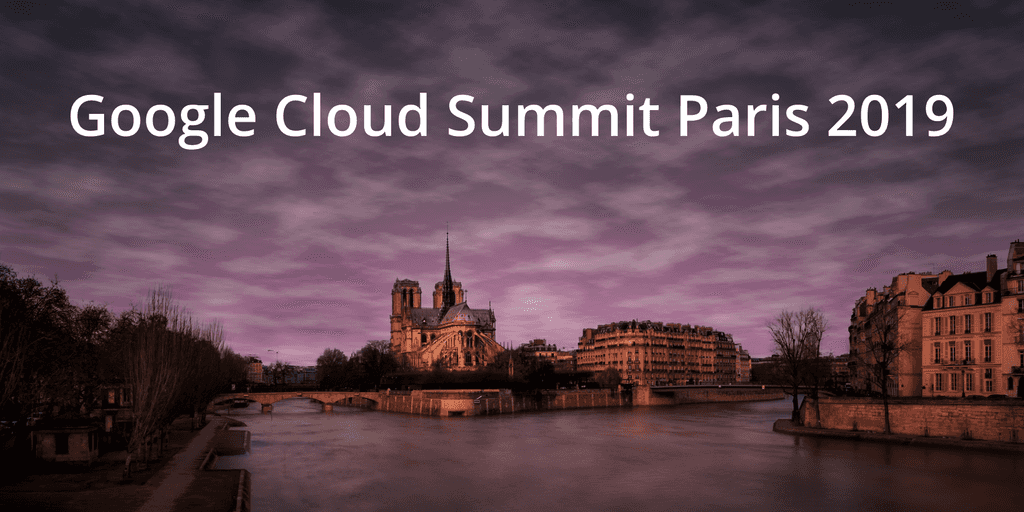 Google Cloud Summit Paris Notes
Categories

Tags
Never miss our publications about Open Source, big data and distributed systems, low frequency of one email every two months.
Google organized its yearly Summit edition 2019 in Paris on the 18th of June. This year's event was the biggest yet in Paris, which reflect Google's commitment to position itself in the French market.
In term of Cloud market shares, Google Cloud Platform (GCP) is still far behind its competitor Amazon AWS and Microsoft Azure. They already took a big part of the US market and Europe and Asia are strategic to Google in order to catch up with the competition.
Google claimed that the French market is very important to them for five reasons.
Digital transformation
Open and local ecosystems
Paris, the city of AI/ML
Skill development everywhere in France
Massive investments
Various big player of the French market, currently engaged in their digital transformation, such as Carrefour, Total, Airbus and a few others, were mentioned as Google partners. Google also credited Paris for its efforts and promoted it as one of the leaders in the field of AI and Machine learning.
Why Google?
Google shared its vision for GCP. Digital technologies transform entire industries. They consider them-self as a strategic partner to achieve their partner's digital transformation, believing that GCP can:
Transform business models
Deliver new customer experiences
Improve business insights & efficiency
Transform work culture
Google Cloud presented some benefits of offering their infrastructure to their customers. Technologies and data centers that powered Google for years are open to small, medium and big companies so they can take advantage of technology to achieve their goals.
Google also mentioned the transparency that Google chooses to adopt. They assured that privacy and data protection is a very high priority. Those claims didn't come for no reason. Many companies and customers have concerns about privacy and data protection. Google communicated intensively about data privacy to convince suspicions companies.
Google encourages projects to be provider agnostic
The newly introduced project Anthos "opens" the Google platform and its tools to other providers and on-premise platforms. This would make it much easier for Devs and Ops to deploy across multiple platforms. Lowering the Cloud providers lock-in provides business people with the power to negotiate prices. Anthos objective is to facilitate the deployment of the same application on another plateform without changing any line of code. Google is challenging its competitor with innovative ideas and concepts. While other providers lock their customers to their ecosystem, Google power its users by open sourcing the foundation of its platform like with Kubernetes or powerful, vendor-neutral, tools like with Anthos.
Google acknowledged the fact that many companies have their existing data center and environment that they don't want to waste. Anthos makes it possible for the management of a hybrid architecture with other projects like GKE. GKE On-Prem is a key component of Athos to deploy Kubernetes on your on-premise infrastructures. The cloud and on-premise clusters will then be managed as a single environment.
Other New arrivals
Our impressions
Google gives a lot of expectations to customers, installing itself as the leader in data and technology. They were the first in a lot of technological breakthroughs and the Cloud is one of their key focus. Opening their data centers and technologies to customers pushes other providers to innovate and deliver better quality for less money.